Tell Macmillan Publishers that you demand #eBooksForAll
America's libraries are committed to promoting literacy and a love of reading with diverse collections, programs and services for all ages. Libraries are invested in making sure millions of people can discover and explore new and favorite authors through digital and print collections. Downloadable content and eBooks are often many reader's front door to accessing material at their local library.
But now one publisher has decided to limit readers' access to new eBook titles through their libraries.
Beginning November 1, 2019, Macmillan Publishers allows libraries—no matter the size of their city or town—to purchase only one copy of each new eBook title for the first eight weeks after a book's release.
This is personal.
This embargo limits libraries' ability to provide access to information for all. It particularly harms library patrons with disabilities or learning issues. One of the great things about eBooks is that they can become large-print books with only a few clicks, and most eBook readers offer fonts and line spacing that make reading easier for people who have dyslexia or other visual challenges. Because portable devices are light and easy to hold, eBooks are easier to use for some people who have physical disabilities.
Here's the truth: Limiting access to new titles for libraries means limiting access for readers like you.
Macmillan is the only major publisher restricting public libraries' ability to purchase and lend digital content to their communities. Before the embargo took effect, we collected 160,000 signatures from readers who urged Macmillan not to go through with their plan. And we delivered these signatures in person to CEO John Sargent. Sadly, he did not listen.
The American Library Association and libraries across the country ask you to oppose Macmillan's embargo and amplify our message by signing this petition.
We also ask you to share your experiences with the embargo now that it is in effect. Screenshot your waitlist and share your story on the #eBooksForAll hashtag about how the embargo is impacting your community.
We must have #eBooksForAll!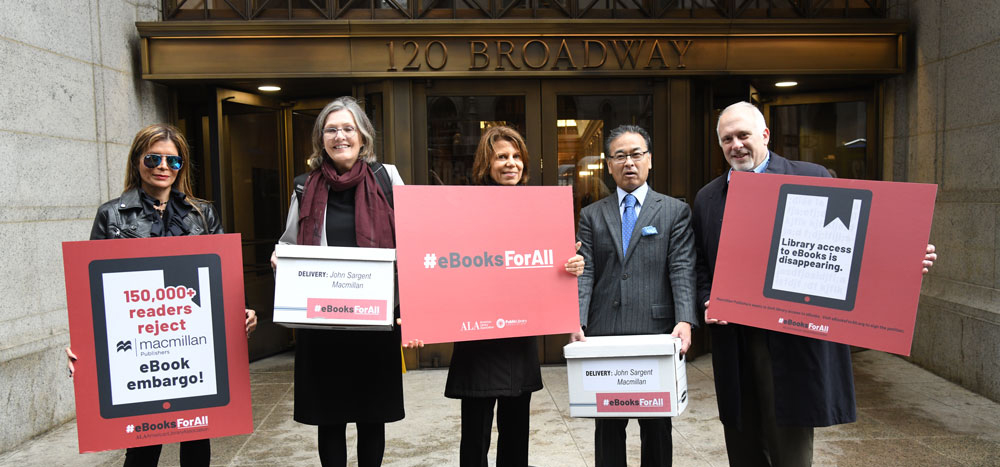 Please note: If you don't see an embedded form to sign the petition at the top of this page, it may be due to ad blocker software. Please visit the Phone2Action website to sign the petition.
Find out how to respond to questions surrounding the issues behind eBook embargos by publishers.
Help spread the word about the importance of eBooks in libraries with our tools and shareables!
If you are a member of the media, check out our eBook Lending Press Kit.
The American Library Association envisions a world where libraries are central to lifelong discovery and learning and where everyone is a library user. Your gift to ALA helps advocate for and improve library and information services and the profession of librarianship, to ensure equal access to information for all people.